Modern door locks and keys are made to be strong and durable and to work smoothly for a long time to come. However, sooner or later problems will arise, and they needed to be taken care of as soon as possible. Otherwise, you will put your property's security at great risk. Make sure that you will take the right action in any kind of situation.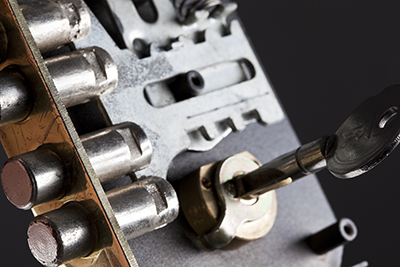 Lock Repair
Do you find it difficult to insert or to turn the key inside the lock? Then your lock will need to be fixed. It begins with close inspection and testing. If a component has failed or is broken, it should be replaced right away. When the key is hard to use, the cylinder is most likely faulty and a new one has to be installed. If you hear strange sounds during locking and unlocking, the problem is most probably with the locking mechanism which will need fixing or replacing. The issue could also be with the strike plate. It has to be adjusted and secured into place.
Key Replacement
While rusty keys can be cleaned and used for a long time to come, ones which have begun to corrode should be replaced. Over time, the peaks of the key can wear. In such cases, replacement is the only solution. This is also the case when the tip is chipped. It is not uncommon for keys bend. While repair is possible, getting a new key will reduce the risk of the blade breaking inside the lock to the very possible minimum. Keep in mind that in case of damaged, faulty or broken transponder key, the replacement one should be programmed.
Deadbolt Installation
One of the most effective ways to improve the security of your property is to replace spring bolt locks on the exterior doors with deadbolt ones. They are harder to overcome using forceful techniques. The ideal deadbolt has a throw of at least one inch and three-inch long screws for securing the strike plate. There is a choice between single and double-cylinder locks plus ones with a thumb turn on the inside. The latter offer a high level of security while giving you a quick escape in case of an emergency. The installation involves fitting all deadbolt components accurately and securely.
If you are looking for local locksmith services, count on our company. We are close to you and can reach you super quickly in case of an emergency. Our team is mobile and available to assist you around the clock. Our services range from lock repair, installation and rekey to fixing and replacing keys and cover homes, offices and foreign and domestic vehicles regardless of the brand. For hiring us, just give us a call 24-7. To learn more about our company, Locksmith Pasadena, browse our website.